This mod adds over 130 new weapons to Minecraft Bedrock Edition!
Ranging from fast hitting lightweight weapons, to the devastating heavy weapons, there is bound to be a combat style for everyone!
All of the weapons show their stats next to the name. Red is attack damage, Green is movement speed multiplier, and Blue is durability 
This mod adds over 130 new weapons to Minecraft Bedrock Edition!
All of the weapons show their stats next to the name. Red is attack damage, Green is movement speed multiplier, and Blue is durability
These weapons range from light and speedy Daggers, to hard-hitting Cleavers and Battleaxes!
To get started in this mod, I highly recommend crafting a Crude Hammer. It functions similar to the other hammers in this mod, but can't do damage and limits your speed by quite a bit.
However, it is extremely useful in order to get all the stone required for the new workstation!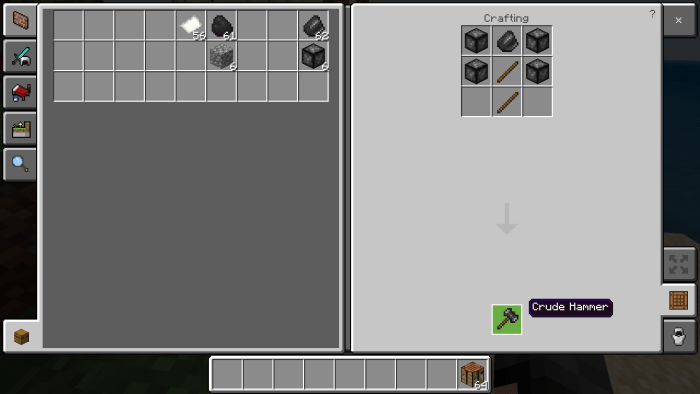 Here is the recipe for the workstation: it requires 5 compressed cobblestone, a smooth stone slab, and a bedrockium ingot (obtained by smelting triple compressed cobblestone)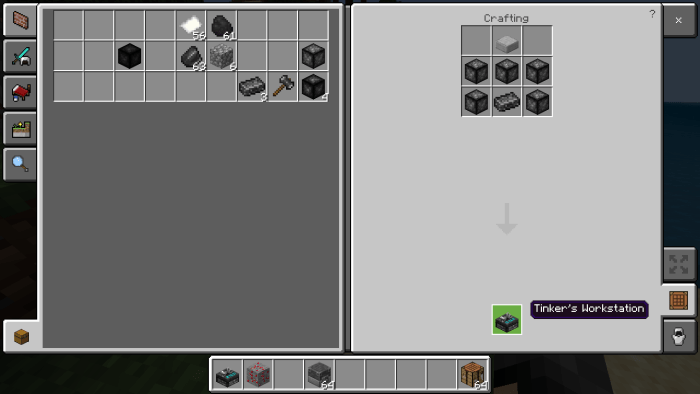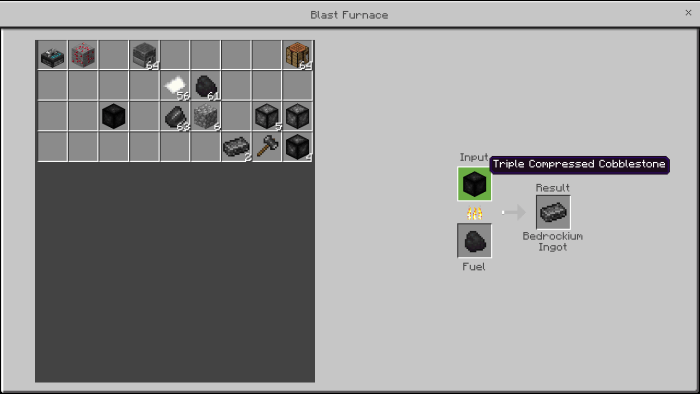 Being that the workstation only requires access to stone, it is fairly easy to get early game!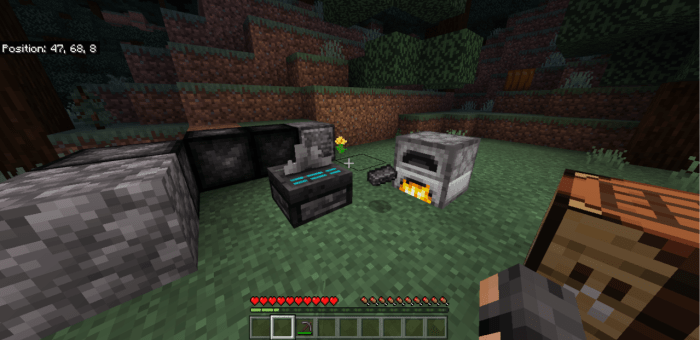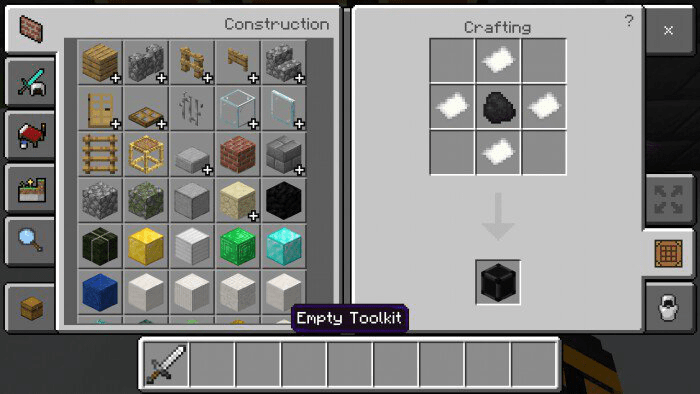 - Here is the recipe for the empty toolkit (it works using charcoal as well)
(you can also surround a coal block in 8 paper to craft the toolkits in bulk)
To make the weapons in this pack, simply craft an empty toolkit, then use that to make one of the four tiers of toolkits. Placing it into the new Stonecutter/Tinkers Workstation will allow you to convert them into the weapon of your choice!
Here are some examples of the crafting recipes for the toolkits.
Light uses 1 empty toolkit, and 1 ingot/gem of the material of your choice, Medium uses 2 of the material, Heavy uses 4, and Extreme uses 4 plus a block of the material.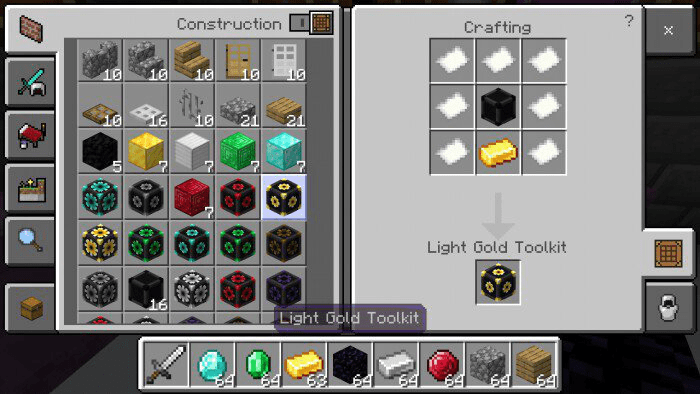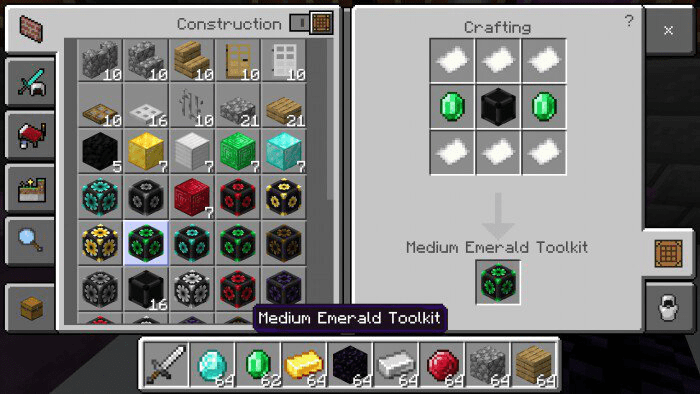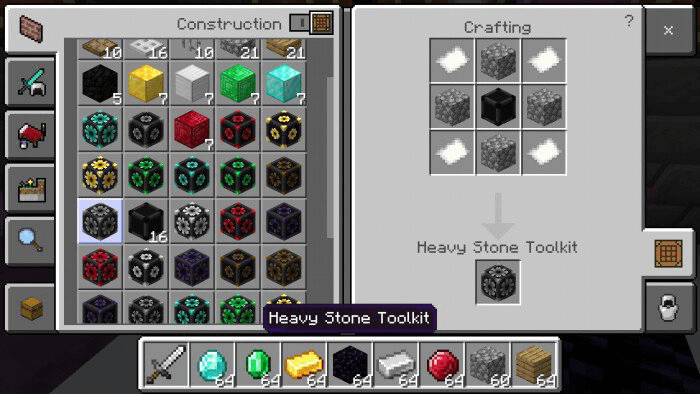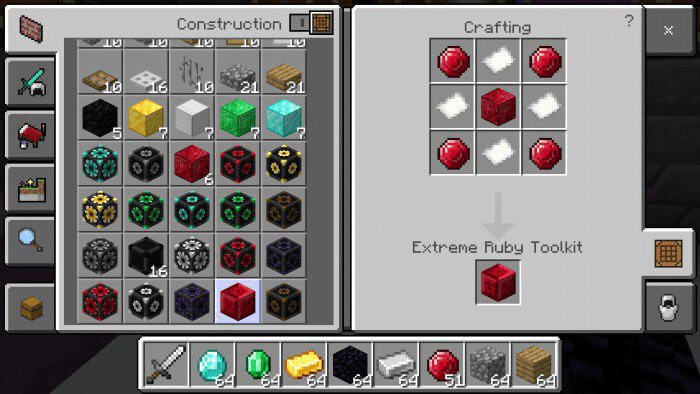 The only exceptions for extreme toolkits are:
- wood, which uses a log
- stone, which uses a piece of double compressed cobblestone
- obsidian, which uses compressed obsidian
Also included in this pack, is the classic MCPE block Glowing Obsidian, fully remastered so it fits in with Minecraft 1.16!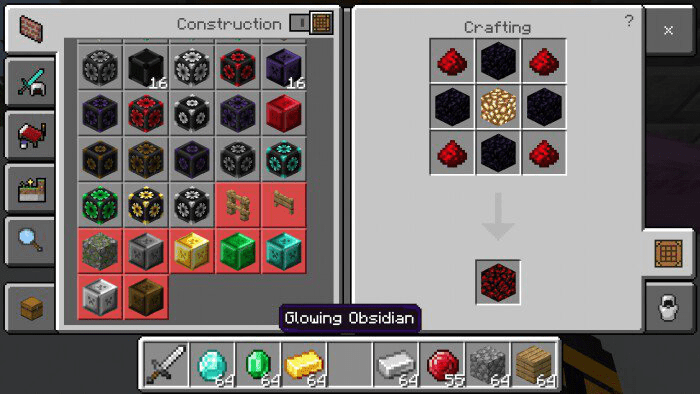 There are also Rubies, Ruby Blocks, and Ruby Ore to this mod! Ruby Ore is pretty uncommon, but highly valuable. It spawns between Y8 and Y24, has a slightly higher spawn rate than diamond, but is more spread out.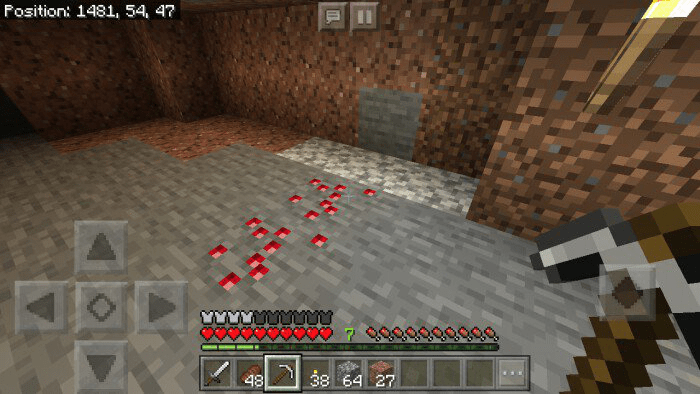 Due to the amount of content in this mod, there is bound to be a weapon for nearly every combat style. There are also a few secrets in it as well, so don't be afraid to experiment a bit!
DIRECTIONS
Do not install any other weapon mods when using Tinkers Legacy! Doing so will cause this mod to stop working, and you risk corrupting your Minecraft World!
If you are having issues with this mod, or if you have some questions you would like to ask me, head on over to my Discord help channel for all of your modding needs or requests!
THIS IS THE FINAL RELEASE OF THE ARSENAL PACK ON MCPEDL
FUTURE RELEASES CAN BE FOUND ON MCPECORE
Lastly, I want to give a shoutout to everyone who helped me make the textures for this update, and for all the great ideas!
Thank you to Aaron3219, Arjay07, BostonSlime404, Cthulu Warrior, CubeSteff3906, ElitePath0, Green™, Idiotic Logic, Ishan, KanadaEh, Lolex, LoneWolf, Lusciouskneez, LuisLR, MACHINE_BUILDER, MeaslyFiend611, PervertedCat, Pino, Potato, Soul Knight Vietnam, THEMAX, TWIGGY, RagePhace, Reilll, Sumio, The Amazing Triangle, Troll 23, WolfieGamer7777, X_GRAVE_X, and Zahf22 for all of the love and support you showed for this project!
I couldn't have done it without you!
Select version for changelog:

Changelog
complete rework of the mod
updated for 1.16 support
updated recipes
made announcement of splitting the project
From now on, I am splitting this project into two parts!
the Vanilla+ version will be continued here on MCPEDL
the Arsenal version will be updated and released on McpeCore
Installation
I have provided a zip file download for those who need it.
This mod has two options:
The Arsenal - this is the full version of the mod, all content and expansions included. (future updates will be on mcpecore.com/Tinkers-Legacy)
Vanilla+ - this is the basic version with only the base materials: wood, stone, iron, gold, and diamond. (this will be continued on MCPEDL)
You can chose which one you want to use!