Tired of having the same title always despite receiving the latest updates? Well, with this package you will always have the title updated to the latest version of Minecraft, yes.
This resource pack changes the standard title "Minecraft" to one that contains the letters of the "Nether Update"
As you can see in the image.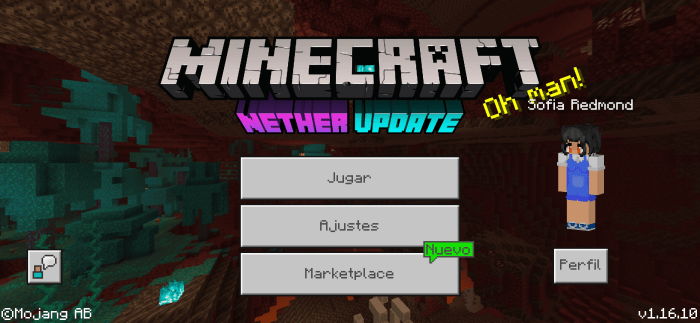 With each update I will add the corresponding letters to the list.
-The download link has been updated, there are now two options, with ads and no ads.
-The code was cleaned once again. 
-The subtitle no longer appears in the world load menu, only on the home screen. 
-Reduced the size of the subtitle at the request of users. 
-Updated the package to Minecraft version 1.16 "Nether Update".
-Now the package does not affect the game pause screen.
-The code is now simpler and cleaner.
-Known error (it's just visual): When opening a world in the mobile version of the game (Android) the title is obscured by the world's loading dialog window.
-The yellow letters (splashes) reappear in the title as it was originally.
-Removed some folders that were generated during package development.
-Residual folders created during development were deleted.
-Las letras amarillas del título "splashes" ahora están presentes como lo está originalmente.
-Bugs Fixed in the pack Download. (MCPEDL Android and iOS App)
--First launch of the package, includes the title "Buzzy Bees Update"

--First launch of the package, includes the title "Buzzy Bees Update"

--First version of the resource package released, it will be added in more languages ​​soon.

-First version released (English version will be added soon, oh yeah)

Installation
Solve the captcha, close the advertisement, wait 5 seconds and download the file, tap the file on your File Manager to install it.

 (Nothing happens when you tap? You can install this File Explorer:
https://play.google.com/store/apps/details?id=com.cxinventor.file.explorer

(Tap the .mcpack file you downloaded and select Minecraft)
Downloads
Supported Minecraft versions
1.14
1.16
Resolution
32x