This pack allows you to play any song from Minecraft in any situation using a music player tab in the settings menu. If you enjoy certain Minecraft songs and want to be able to hear them whenever you want, this pack is for you!
Using the Music Player

Music Player UI Lite adds an in-game music player to the settings screen. This menu allows you to play any song in Minecraft with the press of a button. It works in any gamemode on any world (even without cheats enabled) as long as you can access the settings screen.
Selecting multiple songs from the music player will cause them to play at the same time. If you select an album, the game will play one random song from that album.
The music player works best after muting the default game music. Using the music player while the default game music is turned up could cause multiple songs to play at once.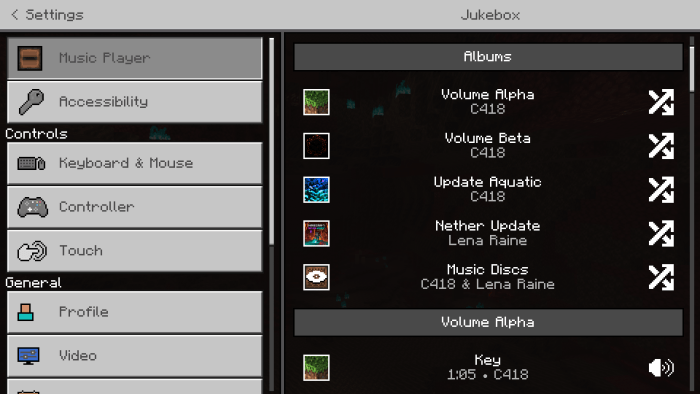 Custom Music

Music Player UI Lite also has support for custom music added by the player with the Custom Music Container companion pack. Custom songs can be played from the music player. Follow the tutorial below to learn how to add custom music to Music Player UI Lite.
Customization Update (1.1.0)
Music Player:
All songs now have a duration listed next to the artist name in the music player
While in the main menu, playing a song in the music player now causes a duration bar to appear that runs for the length of the song or until the music player screen is closed
The custom section of the music player now only appears when the Custom Music Container pack is enabled
-This new companion resource pack allows you to update Music Player UI Lite without losing your custom songs.
Added extensive music player customization through Custom Music Container
-Custom songs can now be given titles, artists, and durations by editing "Customizer.txt", a new file in Custom Music Container.
-Custom covers can now be added for each song by putting them in the "custom_covers" folder and renaming them to "cover[number]".
-Watch an updated video tutorial about music player customization here
Increased the custom song limit to 100
-By default, only custom songs 1 through 25 will appear in the music player. This can be changed in the "Customizer.txt" file.
Moved custom song location to a new "custom_songs" folder
Updated the How to Use the Music Player section to include information about song customization
Added the official Update Aquatic and Nether Update album covers
Fixes:
Update Aquatic and Nether Update music is now always visible in the music player
The Music Discs album in the music player can now always play Pigstep
Long song and artist names will no longer overlap the album and speaker/shuffle icons on the music player buttons
If a song has no title but does have an artist, the artist text will now take the place of the title text
If a music player button is somehow locked, it will now be indicated by a red outline
This pack is now referred to as "Music Player UI Lite" instead of "Music Player UI"
The subpack slider no longer says "Mode" instead of "Resolution"
Pack:
Commented throughout the "music_player_section.json" file so curious users can better understand it

Installation
If you plan to add custom songs to your music player, you need to download the Custom Music Container pack in addition to Music Player UI Lite. The video tutorial linked above will walk you through the process of adding custom songs.
Make sure to apply the Custom Music Container pack above Music Player UI Lite.
If you're downloading an update for Music Player UI Lite, do not redownload Custom Music Container. The Custom Music Container will never need an update, which keeps your custom songs safe.

Downloads
Supported Minecraft versions
1.13
1.14
1.16