This pack makes some changes to how the in-game music plays and adds a music player. People who enjoy listening to Minecraft's music will find this pack improves the way Minecraft music works! It's perfect for anyone who want a more pleasurable experience while playing the game.
Creator: AgentMindStorm, Twitter Account, YouTube Channel

Universal Features

The following features are global, meaning they affect all pack options unless stated otherwise.
Music plays constantly with no silent periods.

All songs play at 0.5 volume.
All unused songs from the official soundtrack have been added.
Calm4 from Java Edition Alpha v1.1.1 has been added.

Festive versions of Ballad of the Cats, Warmth, and The End have been added.

Creative, Survival, Menu, and Water music play interchangeably.
Nether Wastes, Crimson Forest, and Soul Sand Valley music play interchangeably with the original songs.

End and Boss play interchangeably.
Dog plays after the Cat music disc.
Jukebox music is audible from 250 blocks away instead of the default 64.

The "11" music disc has been replaced with Minecraft Volume Alpha's "Eleven", an actual song.
The "ward" music disc has been replaced with Minecraft Volume Beta's "Ward", a remixed version of the original disc.
An in-game music player has been added to the settings screen.
Up to 100 custom songs can be added. Requires the Custom Music Container companion pack.

Any individual song can be played with the command "/playsound song.[song_name/filename] @s".
Music disc music will still play from the jukebox regardless of setting chosen below.
Pack Options
There are multiple different pack options. Each one includes different features and music tracks.
Default - This is the normal setting for the pack with all the features listed above.
Native Music - This limits the music to songs that are in any base version of the game.
Festive Music - This limits the music to festive songs.

No Water Music - This is the exact same as Native Music, but without Axolotl, Dragon Fish, or Shuniji.

Old Music - This uses the music from before the 2013 Music Update. It doesn't use Creative, Water, Nether, End, Credits, or Menu music.
Old Music+ - This is almost the same as Old Music, the difference being that it still uses Nether, End, and Credits music.
Custom Music - This limits the music to custom songs. If no custom songs have been added, it will be silent. Requires the Custom Music Container companion pack.

Total Mix - This lets any music, including Credits, End, Boss, Nether, Water, Menu, Survival, Creative, or Music Discs play at any time.
No Automatic Music - This stops music from playing automatically. It's meant for players who want to manually play songs with the music player or commands.
You can switch the pack mode by going to Global Resources in Settings and selecting the gear.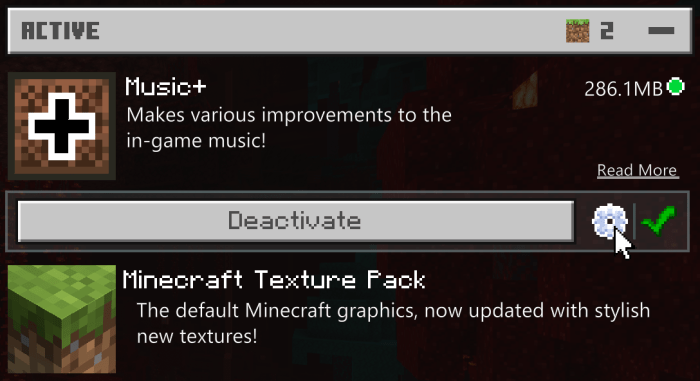 Music Player
Music+ adds an in-game music player to the settings screen. This menu allows you to play any song in Minecraft with the press of a button. It works in any gamemode on any world (even without cheats enabled) as long as you can access the settings screen.
Selecting multiple songs from the music player will cause them to play at the same time. If you select an album, the game will play one random song from that album.
The music player works best with the No Automatic Music pack option. Using other pack options with the music player could cause multiple songs to play at once.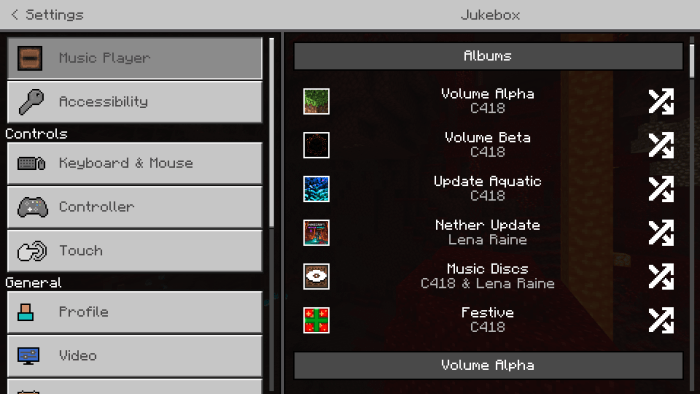 Custom Music
Music+ also has support for custom music added by the player with the Custom Music Container pack. Using the Custom Music pack option will replace the default game music with custom songs. Custom songs can also be played from the music player. To learn how to add custom songs to Music+, watch the tutorial below.
Select version for changelog:

Changelog
Warped Update (2.2.0)
Universal:
Music now plays in warped forests
-It uses the same music as all other Nether biomes
Removed Update Aquatic and Nether Update music files as they were officially added to Bedrock Edition
Custom Music:
Custom songs 26-100 can now play in addition to custom songs 1-25
Total Mix:
Custom songs 26-100 can now play in addition to the others
Music Player:
All songs now have a duration listed next to the artist name in the music player
While in the main menu, playing a song in the music player now causes a duration bar to appear that runs for the length of the song or until the music player screen is closed
The custom section of the music player now only appears when the Custom Music Container pack is enabled
-This new companion resource pack allows you to update Music+ without losing your custom songs.
Added extensive music player customization through Custom Music Container
-Custom songs can now be given titles, artists, and durations by editing "Customizer.txt", a new file in Custom Music Container.
-Custom covers can now be added for each song by putting them in the "custom_covers" folder and renaming them to "cover[number]".
-Watch an updated video tutorial about music player customization here.
Increased the custom song limit to 100
-By default, only custom songs 1 through 25 will appear in the music player. This can be changed in the "Customizer.txt" file.
Moved custom song location to a new "custom_songs" folder
Updated the How to Use the Music Player section to include information about song customization
Added the official Update Aquatic and Nether Update album covers
Fixes:
Update Aquatic and Nether Update music is now always visible in the music player
The Music Discs album in the music player can now always play Pigstep
The ½ second delay between songs is now the correct duration and has been increased to 1 second for simplicity
Long song and artist names will no longer overlap the album and speaker/shuffle icons on the music player buttons
If a song has no title but does have an artist, the artist text will now take the place of the title text
If a music player button is somehow locked, it will now be indicated by a red outline
Pack:
Commented throughout the "music_player_section.json" file so curious users can better understand it
Installation
If you want to add custom songs, you have to download Custom Music Container in addition to Music+. The video tutorial above will walk you through adding custom songs.
Make sure to apply Custom Music Container above Music+.
If you're downloading an update to Music+, do not redownload Custom Music Container. Custom Music Container will never need an update, which keeps your custom songs safe.