Professional-level road-building for everyone! Just hop into your nice sparkly road builder machine, and start layin' 'em down! Well, once you've fueled it with lapis, iron or gold blocks that is. These roads ain't cheap!
Craft your very own Road Builder, fuel it up, and start building roads! Urban planning: OPTIONAL. Crazy-expensive but crazy-awesome, you'll love them.
How to craft
This will give you a spawn egg. Place that down wherever you want.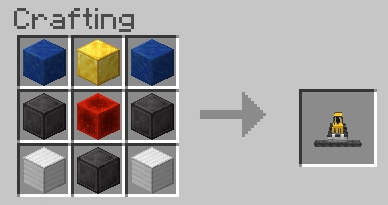 Expensive enough? Those dark blocks are netherite.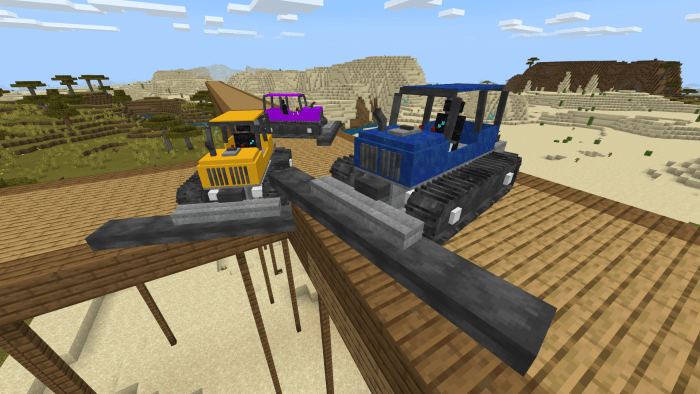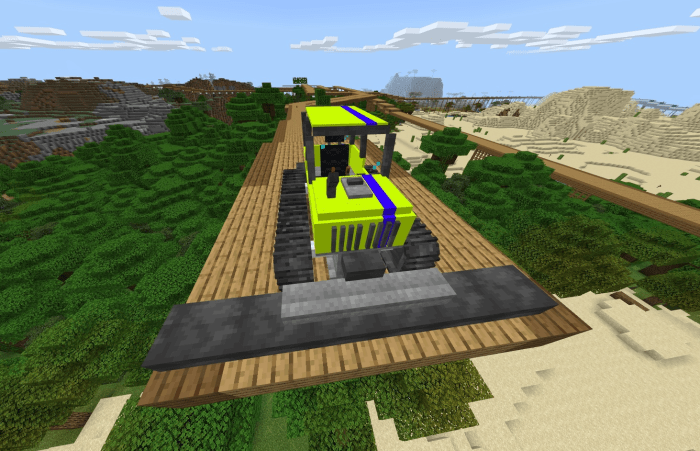 How to use
This machine builds using either gold, iron or lapis blocks.
Gold block builds wooden roads
Lapis block builds dark grey/white concrete roads
Iron block builds orange/white concrete roads
All come with sea lanterns underneath to provide lighting.
Once you have decided which road surface you would like:
Hold whichever block you want to use in your hand and interact with the Road Builder (PC – right-click on the machine, mobile long-press on the machine).
Hop in!
Drive it wherever you would like the road to go, it will automatically drop supports (if required) to a height of around 40 blocks. Sea lanterns will be placed under the road at intervals.
After 75 seconds you will run out of building fuel! You'll get a warning on screen, the building will stop, and the speed of the machine will drop dramatically. After six seconds normal speed will be applied.
Done! If you aren't done, go back to Step 1.
You can make tunnels with them too, anything in front of the Road Builder will be filled/replaced with air before the road is created. Note that any caves less than 40 blocks below the machine may have supports (fences) running through them.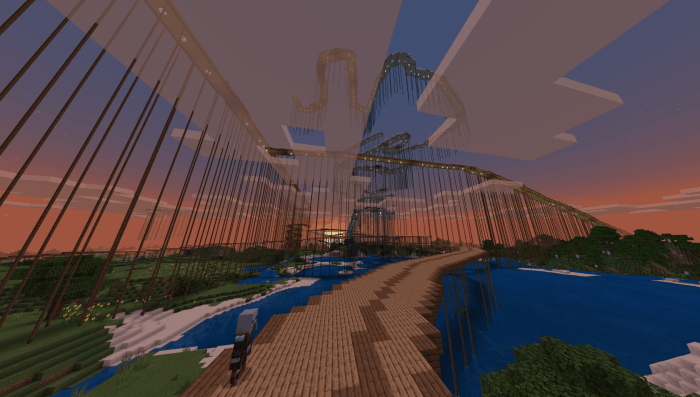 Don't let your world end up like this mess.
We read all of our youtube comments, if you have something to say about our addons, please let us know!
To the awesome youtubers out there, if you do a review/showcase, thank you! Please link back to *this page* on mcpedl. Cheers!
A few minor bugfixes (the loot table works & the wood-builder should be more stable for Realms/server worlds), added a few new variants as well. Up next: Rail Builder!

Installation
Downloads
Supported Minecraft versions
1.16
1.16.100
1.16.101
1.16.200
1.16.201
1.16.210 (beta)