| | |
| --- | --- |
| Server IP | a53204.leet.cc:53204 Add / Connect |
| Version | v1.12.0 |
| Status | Online |
| Players | 0/10 |
| Server Protocol | Pocketmine-MP |
Hi there! NoctisPE is a LEET hosted MCPE server which has been up and running since 2016. We have been through many ups and downs but are now making a comeback!
We offer a range of activities such as:
—> creative plots
—> a unique roleplay town
—> free ingame ranks
—> parkour, archer duels, dropper and more minigames
—> prisons A-Z
—> pvp arenas and more minigames coming soon!
Hope to see you on there soon 🙂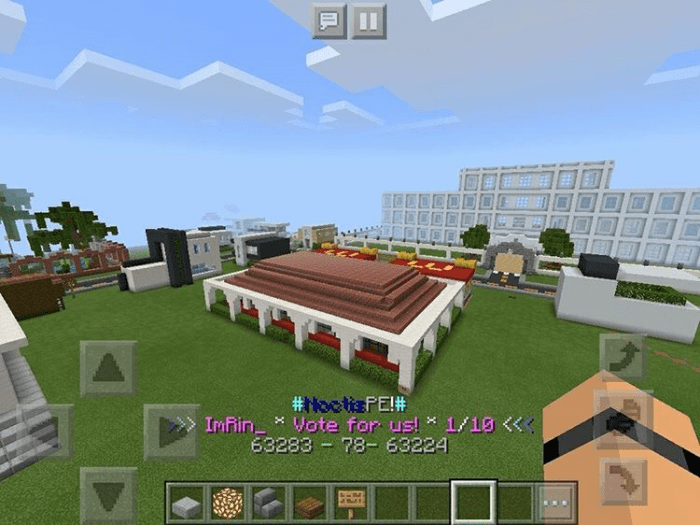 Hello and welcome to NoctisPE!
————————-
These days, most mcpe servers have a very commercialised and 'pay to win' kind of vibe to them. On NPE we have dedicated our time and efforts to create a relaxed and laidback server, featuring creative plots, a unique roleplay town and a range of minigames, NPE is the perfect server for anyone looking for somewhere to relax and make some friends. Hope to see you on there!
~~~~~~~~~~~~~~~~~~~~~~
Activities include:
• minigames: (parkour, maze, spleef, archer duels, etc)
•roleplay: we have a unique handmade town perfect for high school and modern day roleplay!
•plots: build whatever comes to mind in our creative plots section!
•free ranks: find a title that suits you best out of our range of 50+ free ranks
•prison: mine your way from A-Z!
•pvp and more minigames will be available soon!!
~~~~~~~~~~~~~~~~~~~~~~
Extra perks can be earned through donating, voting and being a loyal player!!
~~~~~~~~~~~~~~~~~~~~~~
Join our discord server for more info!
https://discord.gg/67tH6U2
~ Rin ,
NPE Owner
Just added more information about new minigames and stuff coming soon
Supported Minecraft versions
1.12
Server Name: NoctisPE
Map: PocketMine-MP