Looking for a new form of defense for your Village? I got the mob for you! Meet the Wizard. He is a powerful Villager with magical powers, strong enough to beat the likes of Pillagers!
The Wizard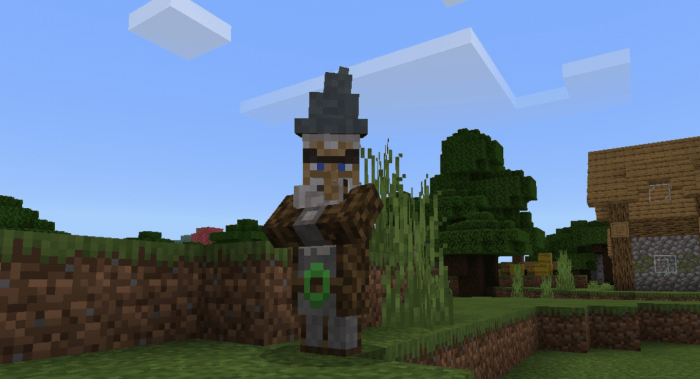 This is what the Wizard looks like in-game. He uses a similar skin found in the app Minecraft Add-on Maker. I customized the given skin to give it my own little twist. You can find him roaming around in the Overworld surface during the night, and will sometimes stay around in Villages in different groups from 2-4.
Health – 30 Health. I gave him this amount of Health so that he can stand a chance against the Pillagers and other mobs
Damage – 3 Damage per hit. He only has one form attack
Abilities – Shulker Bullets and Teleportation. He can shoot Shulker Bullets in front of him when aggro. He will also randomly teleport when roaming, and will teleport extremely quickly when his target is too far away
Drops – 3 Emeralds and 5 Bottle O' Enchanting
Wizard Attack


If the Wizard is near an Illager, he will automatically be aggressive towards the Illager. Here you can see that the Wizard managed to shoot 2 Pillagers up into the air… Yes, the wizards are very dangerous! Especially in large numbers.
The Wizard will be aggressive towards Illagers, but if he sees a Ravager, he will run away! The Wizards also thinks he's too powerful to directly attack Zombies, so he will not be aggressive towards them unless he is attacked.
Death Drops


Upon his unfortunate death, he will drop 3 Emeralds and 5 XP Bottles. These can be used for your liking
That's about it for this Add-On. No updates are planned for this one unless my helper and I find any bugs. If you enjoyed the add-on let me know down below. If you dislike the add-on or have issues with it you can tell me what's wrong and I'll do my best to respond back. If you need help with anything I'll try my best to help out! (For example: How do I import my add-on from MCAddon Maker to MCPEDL? How do I make custom Entities spawn naturally? Etc. You can DM on Twitter @LambDProVEVO, Insta @lambdpro_vevo, Discord Lamb ate your homework#2898)
This Add-On requires Experimental Gameplay to work. Also, this add-on was tested to work with 1.14 or higher. Yes, you must install the Zip files and export them into Minecraft, if you have the right tools you can do it easy and for free. Thanks :3
Installation
Follow the links
Click download
Extract with 7Zipper
Turn on Experimental Gameplay
Join and Play!
Downloads
Supported Minecraft versions
1.14