Tired with pixelated hair? Well no more! with this pack, you'll get more HD and now itsnt cubic model! Grab now to change your minecraft Appearance into more advance! (well its enough of introduction, eh?)
Ichi-Ocha:
I actually doesnt know how to describe this.. There's total of 10 hair types along with new Ochaco hair that recently added. I also added several tweaks, bug fixes, and model Adjustment for this update. Currently this update is still a part of Cour 1, so might expect lot of changes with slow pace update. Dont worry though.. im trying to add new more variant on each updates :) Enjoy..!
Mesh variant :
1) Female
In case you wanted to know how the female variant looks like.. then this time i will also make some previews on that (Plus-plus, the females variant is getting updated). On this first variant, i also updating the models to the original one. Instead of being plain and there's no accessories attached to it. Dont worries, there's now a headband for it!
2) Female 2
Now its cute right? :3.. The Hair is also already fixed.. instead just a pony that hanging infront. and looks really plain. Dont worry, those 2 variant get a new headband for eye candies? This variant have a pair of 'Heart Headband' attached to those 2 hanging noodles.
3) Female 3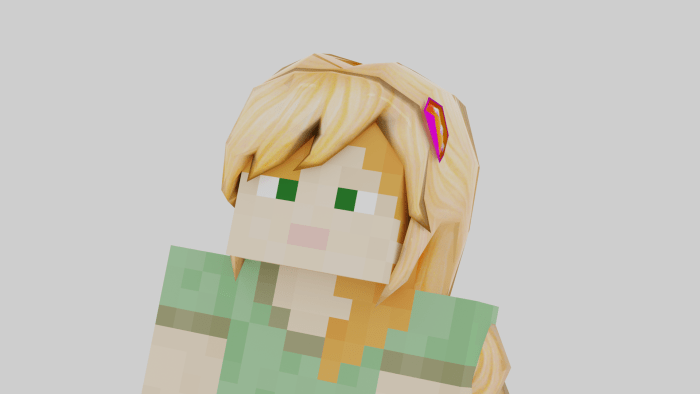 Hey look! Steve's got a princess hair! umm.. i mean Alex.. Umm.. I mean Mrs.Alex Wise. You see.. this hair is mainly used for 'Princess role' inside anime's. This variant is also have a new stripped texture and oh yeah.. not forget to mention that hair-clip (replacement for the headband?). Lastly, this is a missing variant from all those previous update. Did you get the easter egg? I think not..
4) JSteve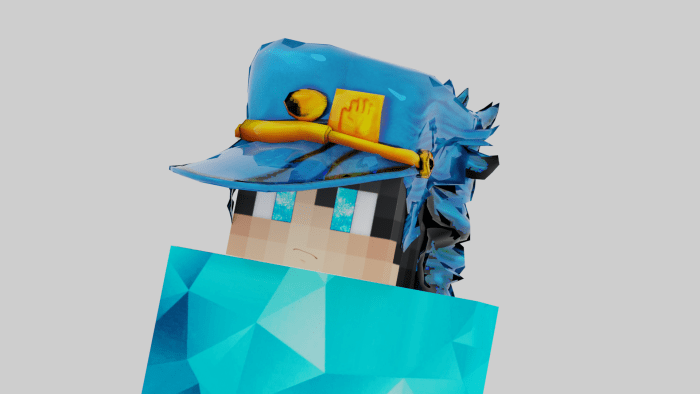 Ah yes.. Jojo... but why its called JSteve? Actually you can call it as Jotaro Steve. This include with Jojo hat! Its kinda use 1 + get 1.(Actually its because the hair were connected to the hat). In the front, there's jojo iconic attributes but just ignore the hair at the back, Its seems like Jojo doesnt cut his hair for ages.
5) Bakugo
Here's come our Fireworks Boye! Becarefull tho.. your skin will bleed with those spiky hair of his. The hair coloring is barely a simple gradient, so you can adjust the color to your needs easily.. This is definitely a typical badass character, actually this is also one of my favorite. Although, dont expect skins and the grenade launcher are exist in this pack. This pack only provide his hair..
6) Deku
Dont forget Deku! He's also one of Bakugo's buddy.. Recently, Deku's decided to donate his hair to ours to be able exist in this pack. His hair is also Spiky... so experiment it yourself. The hair is also consist of green gradient for the sake of simplicity [Might change in future updates].
7) Ochaco
And now featuring the latest variant from this update...Ochaco! Her hair is unique, isnt it? She has curvy hair lines at the front, its like a hanging pasta. Uhm.. a pair of side pony? Currently all the BNHA variant have a rough gradient texture, not that they hair has a texture after all but its because i wasnt able to get the right UV's upon model extraction. Anyway.. This hair is still not polished. Barely its a rushed model with a rushed thumbnail. I will try to adjust it further on future cour updates.
7) Male 1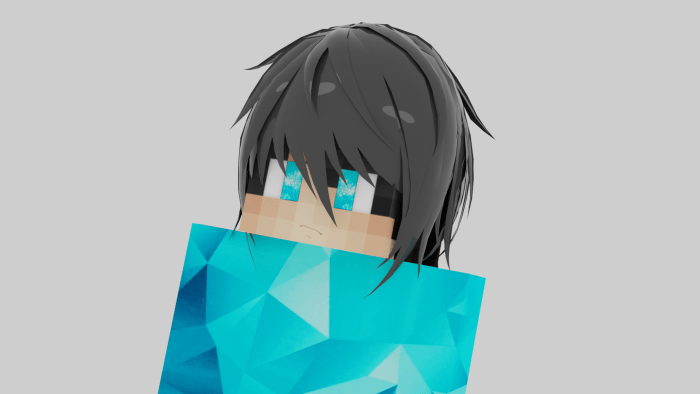 Anyway, this variant is kinda well known because this variant include Typical MC Hair that featured on almost any Anime, i think? I knew it, some of you may recognize this flattened hair. Its far more better if you change the color of it to match with your Minecraft P̶i̶x̶e̶l̶a̶t̶e̶d̶ ̶H̶a̶i̶r̶- Skin. It has smooth hair like in the preview.
8) Male 2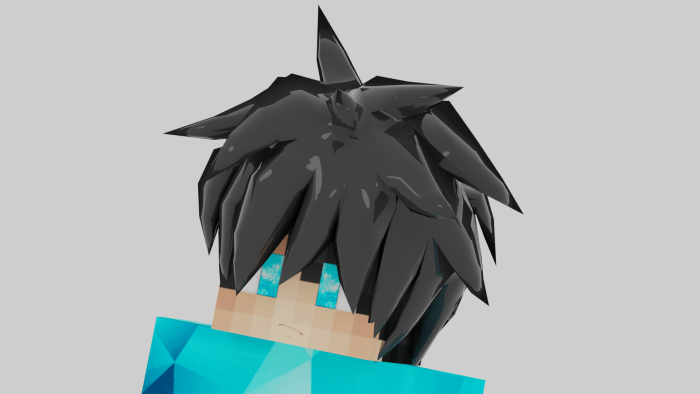 This is description : Ok guys, lets take a look on this j̶u̶n̶k̶y̶ hair (oops). .For example, you can use this hair with *No Eye'd* skin for better experience like in Hentie Anime :3 I bet its much more far beyond better if you listen to my recommendation. Ehem, anyway, lets move on.
9) Male 3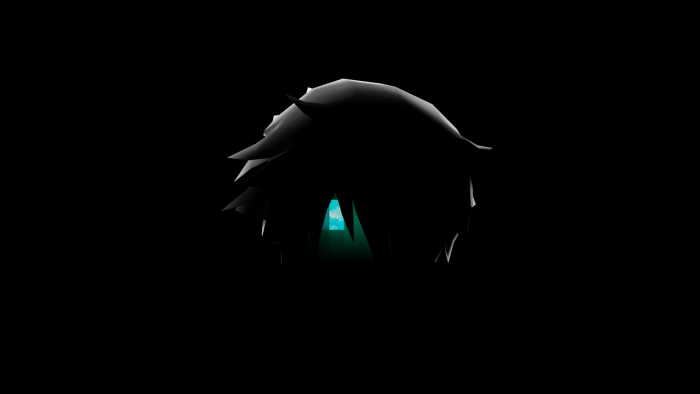 This is my favorite one. Its really suits with your Minecraft Skin that has Stolid or Cold characteristic. This hair will covers half of your face, so you doesnt need to use any mask on this pandemic. Its more better if you have 2 layered eye like in the preview. Well i admit, its kinda cursed since it has round shape but das alright. goodnight boys, I'll see you on the next update.
Blocky variant :
Blocky version is still the same as Original version but the model is structured by cuboid element. Here's the preview to represent all Blocky variant :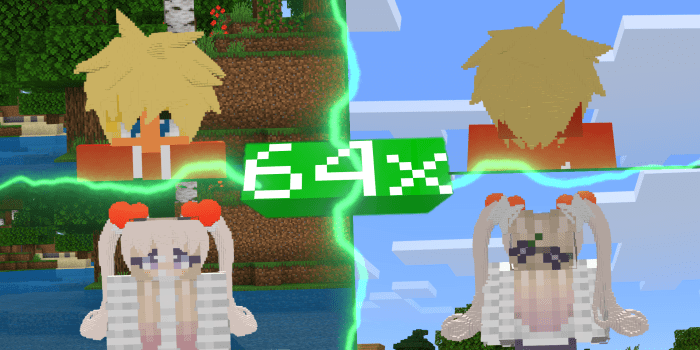 Now that's a lot of work! Thanks for the feedback you gave on the comment section! If you have any kind of bugs or suggesstion, leave it below! You can also join my Discord server and leave your suggesstion there for faster notice.
>>> Discord : https://discord.gg/j7ncyRe <<<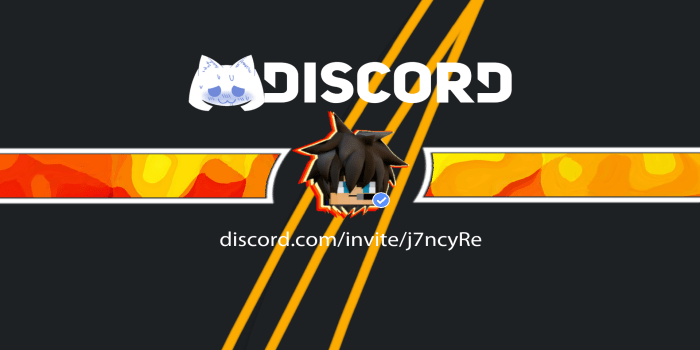 FAQ
Q : Why the the hair doesnt load when i switch types?
A : Alright, when you encounter this problemo.... make sure you already switch hair types and then just re-open minecraft or alternative way is to remove the resource pack first from the resource pack section (I mean not to delete it) and apply the resource pack again with other hair types that already selected and *BOOM*
You can now change the skin easily without using Image editor or whatever. This update also clearing some Known Issues that you faced with. Here's how you change the skin on this new update! Just choose the skin you want and BOOM!
Curious with how's the pack looks like? You can see the Video Preview listed below.
PREVIEW :
Select version for changelog:

Changelog
#Ichi-Ocha Update :
Ver: 1.7.2.0_Ocha_BNHA-Cour1_12/8/21
- Changing all Render_Controllers format to 1.10 because of Minecraft Bug
that sometimes cant parsing the code tree and causing "Missing Bracket"
- Fixed Double geometry on Females
- Added Ochacho from BNHA
- Updated terms of use and License
- Added Textures for Male variant
- All subpacks are now piped with the same Renderer & Entity Props.
- Fixed JSteve variant not loaded
- Fixed Male2 Hair bone parent and able to move, follow player head.
- Fixed missing thumbnail from previous updates.
- Minor thread and pack changes.
Installation
1. Open the link variant as you wish
2. If the captcha pop's up,.. then you need to complete it no matter what.
3. Wait the 10 secs countdown until its finish
4. Click on "Free Access with Ads" if you doesnt have linkvertise premium, otherwise just the premium instead for faster access
5. Now click on "Discover Interesting Articles", just open random articles and close it. after that, click on "X" button and wait for another 6 secs countdown
6. Click on "Continue" button and it'll automaticly route you to the Mediafire Page
7. Now just download the content and Enjoy!