Protect your realms from Duplicators/Client Users with No2x2 to rid your self from them! Why suit for moderators to watch when you can be rest assured one of the more popular methods is blocked! By XG
No2x2
Made for version +1.12.0
By XG
DISCORD
https://discord.gg/tPsVN48 – For updates and more addon content!
Using this addon you get rid of the 2×2 crafting grid and the offhand slot to mitigate people from modding/duplicating in your maps!
How Does This Work?
By removing the 2×2 Crafting Gird and the Offhand slot, this prevents people from using cheats to abuse these locations in the inventory. If you want people to stop doing this in your realms, it is not the lack of protections/moderators in place, its an easy abusable method.
Can I use this on Realms?
Yes, you can! This addon was specially made for realms, by a realm creator!
Does this affect gameplay?
Crafting still works, and offhand slot it will not be changeable once you put something in it.
Be advised when putting shields in as they will not be obtainable.
Is this full protection?
Sorta, advanced clients can still summon in items without these slots. 90% Of the community doesn't even own or know about these clients so rest assured you're fine!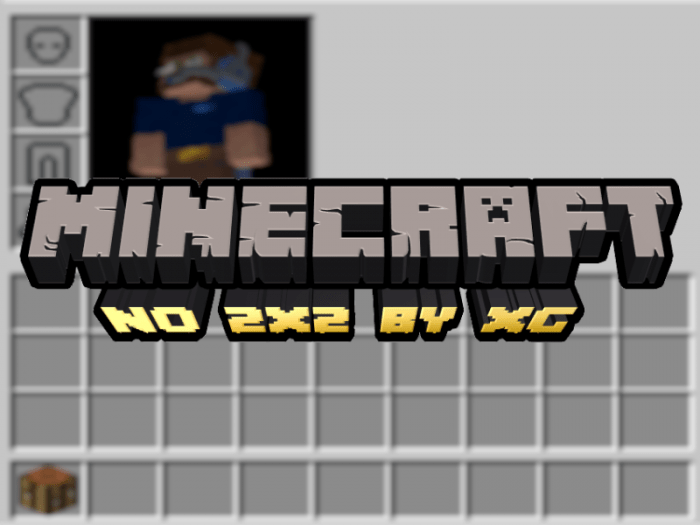 Usage in maps/realms/servers
You are allowed to:
Use this in any creation with the correct credits applied
Use this in any video with the correct credits shown
You are not
allowed

to:
Use this in any creation without providing credit
Provide any other download links that are not the ones I provided.
Monetize the Addon given
Modify any of the code inside the pack without approval first.
Release this in any mod pack without my consent first.
Thank you for agreeing to the terms when downloading.
Added more detail on what its for. This addon is EXTREMELY SIMPLE and isn't multi-functional or anything like that.
Installation
Set this above any texturepack to get it working!
Downloads
Supported Minecraft versions
1.12