Time to set your watch back 100 million years and deal with one of the baddest dinosaurs to walk the earth. The Spinosaurus. Oh boy, the gloves are off! And probably eaten, along with the rest of you!

Some facts about these fictional spinosauruses, they:

Spawn in plains biomes. Light levels 5 to 14, which means around sunrise & sunset. So you won't get too many, in theory.
Have 300 health (yikes)

Have a long reach, so you'll probably have to take a hit before you can hit back
Fast over land or water
Healable! Sure, why not. Fish and meat pretty much.
Four different variants.
Four different sizes (very large to much bigger than very large), the bigger they are the harder they are to knockback

Will attack just about anything

Drop awesome loot, especially if you land the killing blow yourself
Have 38 attack strength (double yikes)
They have neural fins! Don't we all wish we had neural fins. The fun we'd have...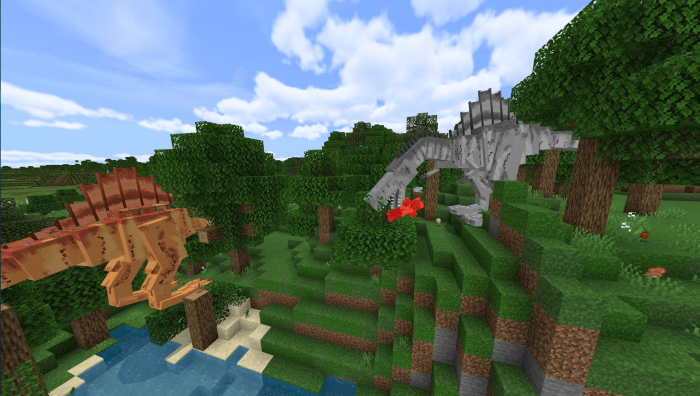 To the awesome youtubers out there, if you do a review/showcase, thank you! Please link back to *this page* on mcpedl. Cheers!
Select version for changelog:

Changelog
Minor change to increase knockback resistance (of which they had none, oops, they were way too easy). The bigger they spawn the more resistance they'll have.